Welcome to the only place where you can buy a signed Limited Edition copy of my TEAM SUZUKI book I have secured a consignment of the last available copies of his 'Team Suzuki'.
Over the years, my Team Suzuki book has become the standard reference work used by Suzuki experts including Suzuki racing fans, collectors of racing machinery, motorcycle restorers and auction house experts verifying the provenance of an auction entry.
As you will see, my Team Suzuki book is now available in two unique formats and this web-site provides the background information designed to help you make your purchasing decision.
Thank you and I hope you enjoy using this site.
Ray Battersby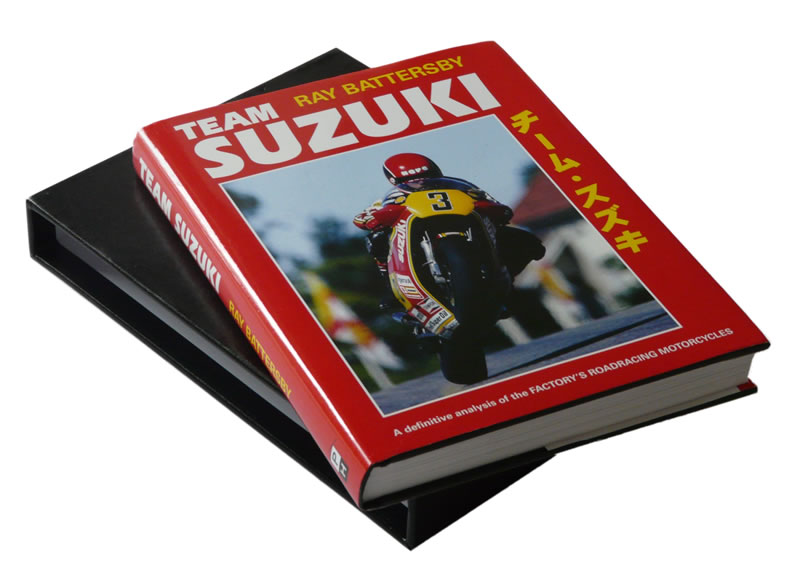 Where To Get Started
OUR SHOP provides on-line ordering and payment for two versions of the reprinted Team Suzuki book.
TEAM SUZUKI REVIEWS reminds you what the experts said about my Team Suzuki book when it was first published in 1982 and what some have said in the years since then.
ABOUT TEAM SUZUKI provides an insight into the background of the Team Suzuki book. It explains why I wrote it and how I researched it way back in 1982.
LOOK INSIDE TEAM SUZUKI allows you to form your own opinion of my Team Suzuki book. Start by checking its dust-jacket to read what racing icons like Graeme Crosby, Jerry Burgess and Merv Wright have said about my Team Suzuki book. Continue by reading the book's Contents and comprehensive Index before reading many of the book's pages.
Two Unique Editions
COLLECTOR'S LIMITED EDITION – Only 250 copies of this hard-bound version of my TEAM SUZUKI book have been produced and they're only available from me. Both the book and its heavy slip-case have been especially bound in black faux leather. Each copy is signed and numbered by me on an embossed Certificate of Authenticity. A personal dedication is optional at no extra cost.
STANDARD EDITION This hard-bound version of TEAM SUZUKI is signed by me and shipped anywhere in the world.
Delivery Info Shipping costs are for a single book. Please contact us if you would like to order more than one book and we'll send you a quote for shipping.